9 Things to Consider When Implementing a New Office Communication Tool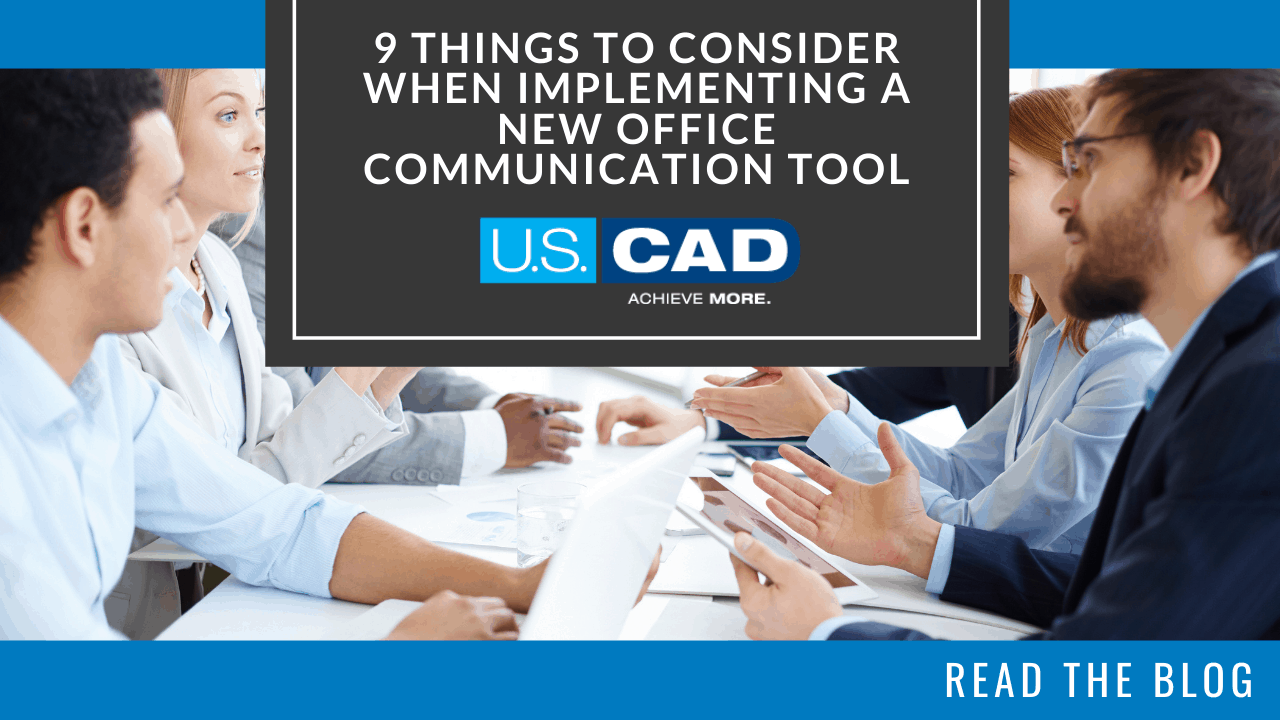 Communication – It would be an understatement to call this an essential component in creating successful project outcomes. Communication is at the core of every business function across all industries. For AEC professionals, it ensures that internal teams are cohesive with their efforts, it's critical for external collaboration with consultants and other project contributors, and it informs the client of progress and expectations. Without communication, everyone's job is ten times harder, if not impossible altogether.
But these days, communication isn't quite as simple as having a face-to-face conversation. No, these days, communication involves technology. Some of the most popular options are Microsoft Teams, Slack, and Zoom – sometimes combined to maximize the unique benefits that each solution offers.
If you're on the fence as to whether these modern communication technologies are worth the hurdle of implementing, then I'd like to offer some compelling reasons to make the shift. Beyond the obvious advantages of enhancing your team's ability to communicate, collaborate, and share information quickly and effectively, lies a trifecta of benefits – competition, culture, and recruitment.
Competitive Advantage:
Firms that adopt new solutions will have a competitive advantage over firms that are stuck in the past. Firms that only utilize dated technologies like e-mail, fax, and landlines can suffer from a lack of internal and external communication, and lack the ability to collaborate and share information effectively. In other words, keeping up with the times puts you ahead of the pack.
Company Culture:
In general, these solutions can facilitate more free and open communication, sharing, and collaboration within an organization. At the same time, it is important to set clear policies and guidelines for usage and maintain a degree of professionalism when using these platforms. When implemented correctly, your company culture can benefit from the convenience and improved connection these tools provide.
Talent Recruitment:
Younger generations have grown up with various consumer platforms that offer many of the same features and functionalities seen in today's enterprise-level platforms. Young professionals will expect these solutions to be in place when joining a new company. By meeting these expectations now, you position yourself to retain top talent when growth is on the horizon.
9 Things to Consider When Rolling Out New Communication Tools:
Now that you're fully aware of the many advantages that come with enhanced office communication comes the challenge of narrowing down your options. With so many communication solutions available that offer so many similar features, it can be difficult to determine which ones will best serve your company's needs. Below is a list of some key considerations to keep in mind when adopting new communication tools.
#1 Cost – What is the total cost of the solution? You'll want to take a comprehensive look at the licensing model and be sure to include hidden fees for things like calling plans, large meetings/webinars, cloud storage for recordings, and other additional features you may need that can impact the overall investment.
#2 Features and Integrations – Compare the features of each platform. Consider putting together a list of features that are needed, wanted, or nice to have. Does the platform support integrations or API access for your other critical platforms like e-mail, CRM/ERP, phone systems, etc.?
#3 Security and Privacy – How secure is the platform, and how has the company responded to past security issues? Consider security certifications, encryption, multi-factor authentication, single sign-on, privacy policies, and data governance.
#4 Company Policy – Establishing clear company policies or guidelines that set the expectation for usage of a platform will ensure everyone starts on the right foot.
#5 Training – How will employees be trained on the new platform? Will the training be delivered by the service provider or interal employees that are familiar with the solution? You'll want to address training needs before rolling out any changes.
#6 Administration – Understand all available features and configuration options before deploying the solution. Planning how you will manage employee licensing, roles, and permissions will ensure you're on track for lasting success.
#7 Deployment – You'll want to make sure that you have a well-defined plan for implementing and deploying the solution that covers everything from the initial configuration, software deployment, employee access, and permissions.
#8 Adoption – User adoption is driven by training, deployment, ease of use, and how effective the solution is at a given task. Adoption can be monitored through various metrics that may be available on the platform, such as sign-ins, user activity, storage, and more.
#9 Support – What level of support is provided for the solution? Do you have a direct point of contact? A customer success team? Enterprise-level support? You don't want a solution that leaves you with problems you can't solve on your own.
You're now armed to address the AEC industry's communication needs of the present and into the future. You can use this information to guide your decisions as you strive to enable your teams to communicate, collaborate, and achieve more together.