2023 Key Trends Shaping the Future of Civil Engineering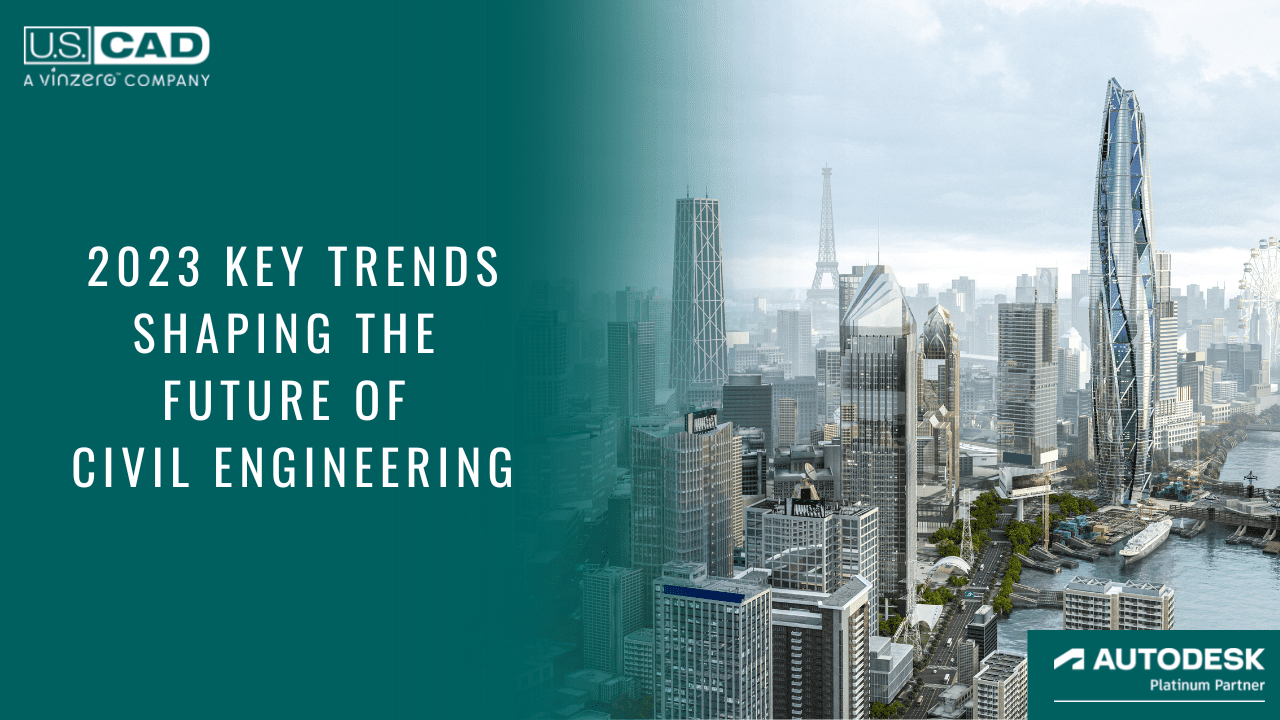 As we look to the future of the industry, the famous Darwin-attributed sentiment comes to mind: "The species that survives is the one that is able best to adapt and adjust to the changing environment."
Those words are more true than ever when applied to the our world and our profession in these evolving times. The construction industry overall, and civil infrastructure more directly, face a number of challenges and opportunities in the coming years. Ongoing workforce issues, deteriorating infrastructure, resource limitations, population growth and climate change top the list of concerns, while unprecedented federal funding and impressive technological advances provide much needed optimism, and perhaps some unease.
In a recent webinar, a panel of industry thought leaders outlined a few key trends that are shaping the future of civil engineering and the necessary actions that the future-ready civil engineer should consider moving forward.
The first may seem obvious, but as panelist Dr. Dennis Truax, former Chair, Director & Professor of the Richard A. Rula School of Civil & Environmental Engineering at Mississippi State University and current ASCE 2022 President, noted, we must recognize that we live in a different world than our ancestors and adjust accordingly. He added, "With limited resources, advanced technology, and population growth, we're looking at a very different future. I like to say preemptive maintenance versus preventative maintenance as a way to not just fix what we have, but look forward to what we need. Be creative, innovative and not stuck in the past."
Tech-Enabled Dimensions
A recent report prepared by Altman Vilandrie & Co., a strategic consulting group for ASCE, identified six key trends – alternative energy, autonomous vehicles, climate change, smart cities, advanced materials, and policy and funding – that will transform our built environment. The interaction of these six trends informs ASCE's Future World Vision. An essential component in that vision is technology as a way to deliver effective, sustainable solutions.
Panelist Joshua Murphy, BIM/CADD Manager at Schemmer reflected on the impact of game-like graphics in the design and engineering space that is helping improve collaboration, coordination and reduce the chance of issues during construction—and manage the growing labor shortages. As an example, he noted, "Augmented reality and improving automation are all opportunities that we need to engage and embrace in our current practices."
Dr. Truax agreed and pointed out the need to incorporate technology, such as UAS, AI, VR, BIM and CADD into the work place and at the construction site. "I can use a drone to do a full site asset assessment on construction site with infinitely more efficiency than a human—and that data is plugged back into BIM and progress reports, which allows for more accurate contract documents and less reliance on contingencies."
Matthew Vega, P.E., National Director of Infrastructure and Government Practice at U.S. CAD agreed, reinforcing the importance of digital delivery and data science. He pointed to a recent digital delivery initiative with the Montana Department of Transportation. Through this initiative, the state agency adopted transportation-related 3D design and modeling workflows that have improve project delivery across the planning, designing, constructing, and overall ecosystem management. As a result, the agency has realized an improvement in roadway design quality and safety, reduced project costs and risks, and increased efficiency and productivity and overall improved collaboration—a methodology that wouldn't have been possible even a few years ago.
A Future-Ready Attitude
All of the panelists noted that today's civil engineers must have a future-ready mindset. The attitude that we do something because that's the way we've always done it simply won't work in this new era. Similarly, the concerns about AI or robots taking jobs is too narrow. As Murphy point out, "There will be disruption in the workforce, but those firms that are not adapting will face huge deterrents to getting work in the future."
All of the panelists concurred on one essential area: Training. Dr. Truax explained, "The biggest deterrent to adopting new means, methods, technologies is often leadership, those individuals that are more focused on dollars than making sure their people are prepared for what's coming. We as an industry have to be innovative and forward looking to meet the challenges that are coming."
To hear more about the key challenges facing civil engineering community in the coming year, including an ASCE study about workforce challenges, watch to the 2023 Key Trends Shaping the Future of Civil Engineering webinar. If you have questions about how technology can help your firm better respond to industry challenges, contact U.S. CAD.