U.S. CAD Earns Autodesk Platinum Club for Sustainability, Best-in-Class Customer Success, and Sales Leadership Awards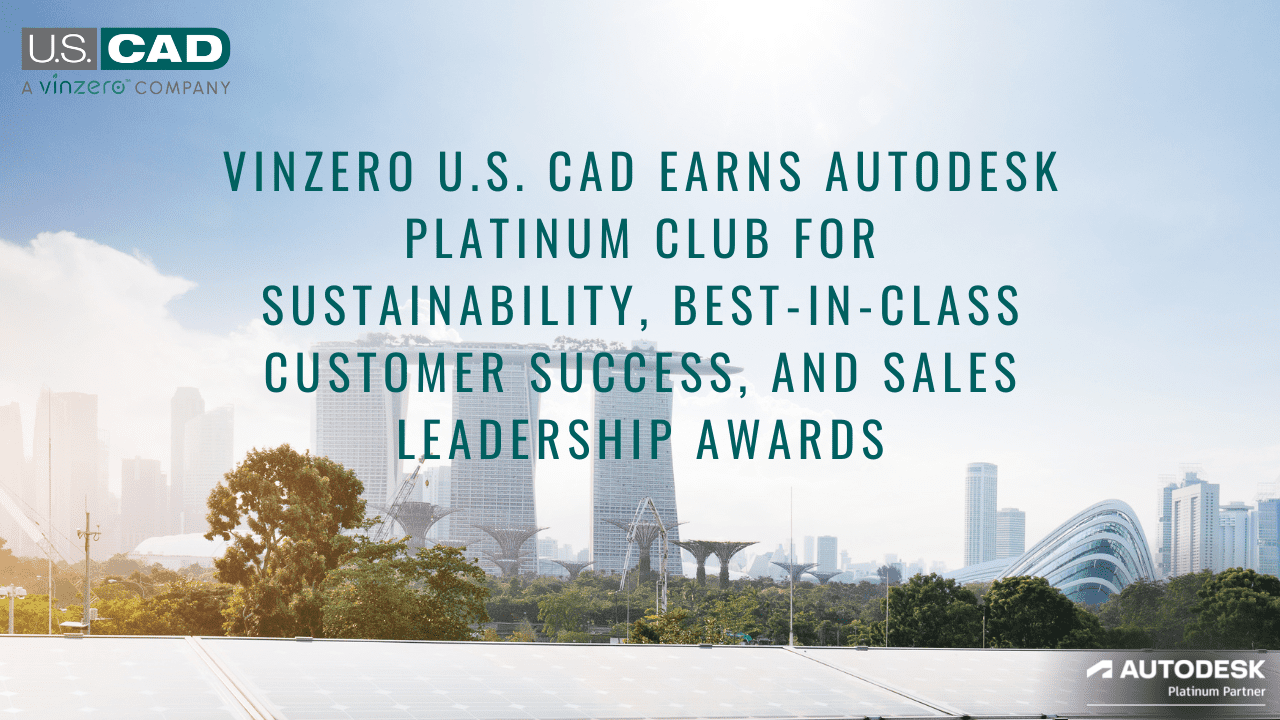 IRVINE, Calif., March 20, 2023 – U.S. CAD, a leading AECO technology and consulting firm, announced today that the company was honored with three Autodesk Partner Awards for the fiscal year 2023.
News Facts:
The Platinum Club Award for the Most Impactful Sustainability Win recognizes U.S. CAD's alignment with Autodesk's mission to help customers imagine, design, and make a better world for the future. It honors the company for collaboration with Nautilus Data Technologies, a pioneer in sustainable, water-cooled data centers. U.S. CAD provided critical technical guidance and training as Nautilus transitioned to Autodesk Revit and BIM Collaborate Pro for uniformity, increased collaboration with its design and build partners, and to leverage sustainable design features within the solutions. The award further acknowledges U.S. CAD's leadership in addressing the urgency, momentum, and demand for sustainability in the built environment.
U.S. CAD has also been named a winner for Best-in-Class Customer Success, recognizing the company's dedication to customer success, collaborative approaches to ensuring customer outcomes, demonstrated ability to foster customer relationships, and innovative digital and data-driven business processes.
Grant Strom, National Business Unit Director, Construction, has won the Sales Leadership Award for his demonstrated ability to coach and lead teams, drive growth, develop innovative sales processes, and encourage collaboration with Autodesk, which helps to ensure a positive customer experience.
Supporting Quotes:
Daniel J. Counts, Chief Executive Officer, U.S. CAD
"Being recognized by our key partner, Autodesk, in three distinct award categories is a tremendous honor and validation of our team's work and alignment. We care deeply about our customers and the industries we serve, and our efforts, combined with Autodesk's products and partnership, are transformative in this new era of digital transformation, sustainability, and collaborative customer relationships."
Gabe Andrews, Senior Director of Data Center Operations, Nautilus Data Technologies
"The success and smooth transition of our sustainable data center to Autodesk and BIM can be largely attributed to the skilled and dedicated team at VinZero U.S CAD. Their support, comprehensive training solutions, and timely assistance accelerated our conversion from Rhino to BIM – setting benchmarks in efficiency and teamwork."
About U.S. CAD
U.S. CAD helps the AECO industry to take transformative steps toward net zero through digitalization by providing best-in-breed technology solutions for a better tomorrow. From our unique 'Think Future' discovery-based consulting approach with a focus on reducing environmental impact to our strategic account management, proactive customer success experience, and flexible technical support services, we empower customers to thrive in the digital world while fostering environmental sustainability. To learn more, visit www.uscad.com.
Contact: Marie Racewicz, U.S. CAD
Phone: (877) 648-7223
Email: marie.racewicz@uscad.com
###