Three Critical Components to Every Successful Technology Investment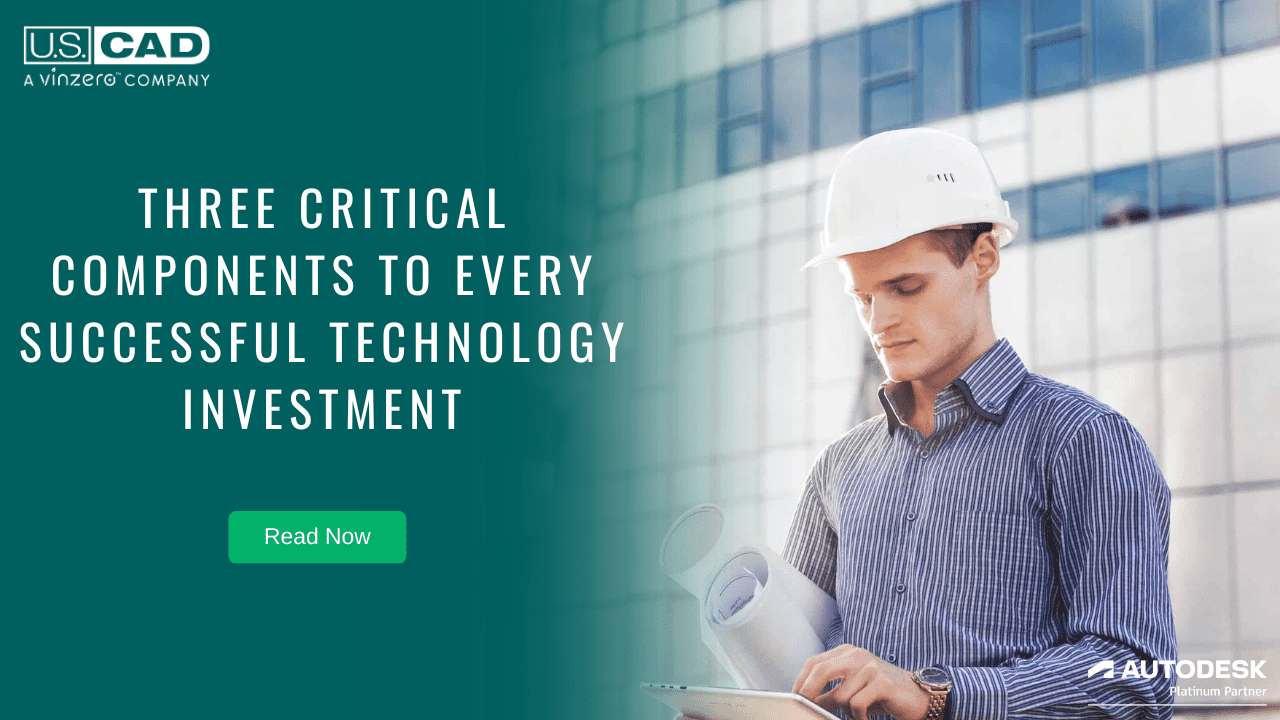 There's no shortage of technology solutions available that promise to help construction companies drive efficiency and productivity, shape more collaborative workflows, improve project delivery and even manage external disruptions.
Case-in-point, the pandemic put every organization's flexibility and connectivity to the test with jobsite restrictions and work-from-home orders. Today, those disruptions might take the form of supply chain management, workforce training and talent development or protecting margins despite inflation.
However, for many, selecting the best tools for an organization's long-term success may seem hit or miss. In a recent study, U.S. CAD, a VinZero Company, and Construction Dive, evaluated practical and pragmatic best practices for investing in technology across the construction space, solutions that leave a company well prepared for the next external (or internal) disruption.
Here are the top three steps that can help any organization make the best use of technology and be prepared for whatever comes next.
Invest with Purpose: Identify the task or process that is limiting the efficiency of your team. Defining workflows and standard operating procedures is a start. From there, consider how those workflows and standard operating procedures could be digitized so they're accessible and actionable — whether you're in the field or the office.
Make a Case and Communicate: Once you identify what your people need to overcome challenges and be more productive, then you'll be able to find the right solution AND communicate the benefits of this change to your team. This preparation starts with selling the technology to your internal team so that they understand its value and are willing to adopt it. If workers don't see an obvious benefit to using the tools you show them, they'll be tempted to stick with systems and processes they already know.
Train with Intent: This is arguably the most important step in any technology investment.
From the office to the field—and from industry veterans to new hires—your investment in technology is only valuable if your team knows (and buys into) how to use it. Technology training should involve more than reading from a book to ensure engagement and understanding. It should be targeted and tailored to the individuals that must use it. If possible, it should be an interactive experience that allows your team the opportunity to practice what they're learning, apply the tool to real-world scenarios, and ask questions.
Effective employee buy-in and training provides one additional benefit: technology optimization. As an example, many companies focus on plan viewers for construction documents and don't pay attention to other components, features and functionality of the tool. Later, they realize they need a tool to manage a request for information as well, so they begin a search for new RFI technology — without realizing that their project management software has a built-in RFI solution. This disconnect is largely due to a lack of training that would have walked them through all the tools available. Therefore, the company ends up investing more money than necessary.
When the construction industry experiences the next disruption, will your team be ready to change with the times —or will they be left behind? As the report authors note, "Training your workforce is about more than encouraging employees to adapt to technology. It's about changing processes and upending traditional practices to prepare for any and every disruption."
Read the full report, Will you change with the times—or be left behind? for more pragmatic and practical advice to investing in technology that works for your organization.