Five Ways Autodesk Build Does PlanGrid Better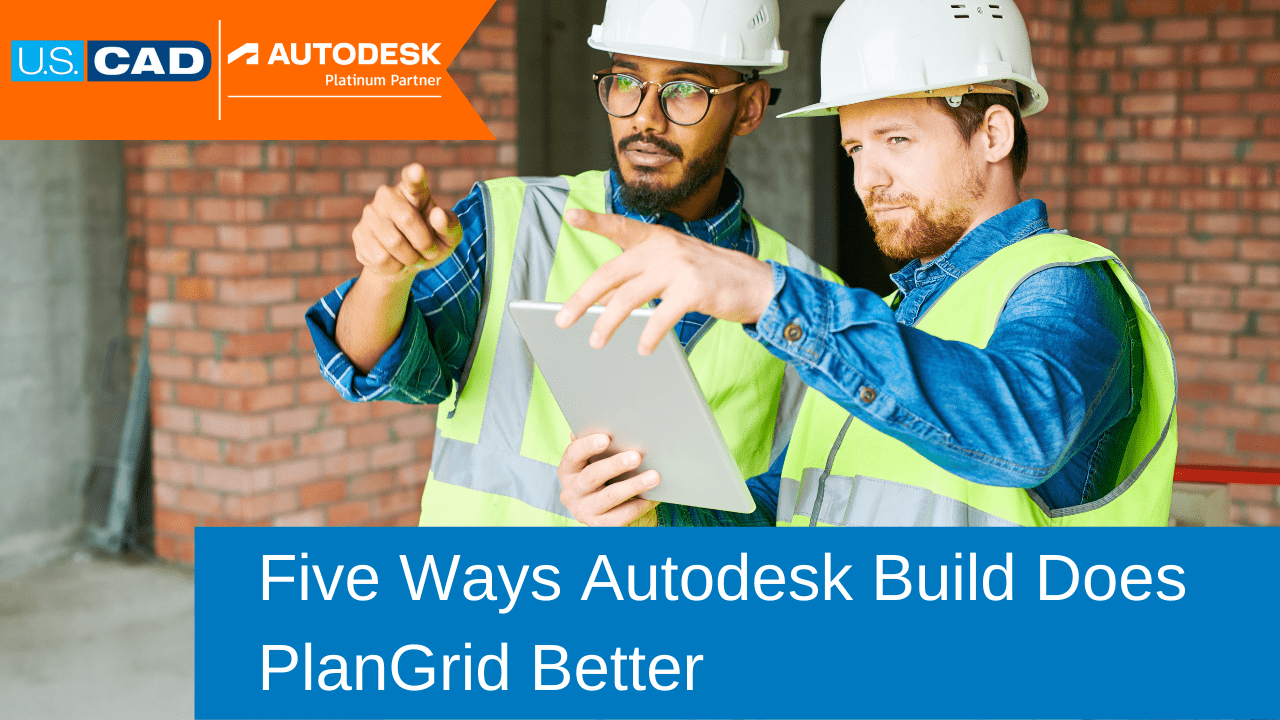 It has been over a year since Autodesk announced its Autodesk Build solution, which unites the best of PlanGrid and BIM 360 and is now part of the Autodesk Construction Cloud. Users still have access to PlanGrid projects, but they might be planning to transition or have begun to transition to Build. So what can veteran users of PlanGrid expect when they make the move? Here are five ways Autodesk Build does PlanGrid better for the benefit of AEC professionals everywhere.
Improved data categorization
"Data is king" might be a cliché, but like any cliché, there is a kernel of truth to it. In PlanGrid, user functionality is limited by the amount of data you can input. With Build, viewing and organizing data is easier and more helpful with customizable data fields and the help of artificial intelligence (AI). For example, when viewing a task in PlanGrid, users can create a stamp location, see types and attributes, and publish to a project. Build includes all of these features, but with the ability to create custom attributes. Users can also access an activity log to see a complete history of activity regarding any task or issue. While PlanGrid users can use the side menu to link to photos, sheets and videos, Build users can link to all of these as well as PCOs, RFIs, assets, forms, submittals and files. Importing photos in Build also uses AI-assisted automatic tagging for easier file management.
More efficient project management
Simplicity is often best when keeping track of tasks involving multiple team members with different levels of responsibility. However, in the name of efficiency, sometimes you need a little bit more functionality. This is especially true when keeping track of a work in progress, such as an RFI. In PlanGrid, RFI management was very simple and straightforward. You could input and track information such as status, title, RFI #, questions, answers, references, due dates and comments. Build improves this with permission-based workflow management. There is also a live-save function so changes do not need to be saved manually with each update. RFIs in Build also incorporate a "suggested" answer function in addition to the official answer. This can help ensure incorrect information doesn't end up in the final submittal.
Better document management
As users of PlanGrid know all too well, document management is occasionally a pain. File types sometimes do not come through accurately, and information about each file has limits. With Build, document management (Files), more information sharing is possible with the ability to use tags, create status updates, track markups, versioning, reviews, transmittals, and attributes. This allows users to filter and search through their documents with ease. Users can track file activity , so you can see who has opened it, downloaded it, who added markups, and other activities. Users can also enforce naming standards on specific folders. Files names that are incorrect will be separate from the folder until users add the correct name.
Maximized cross-team collaboration
A new, fun feature in multiple facets of Build is the "Ball in Court" function. This new component helps users manage and keep track of assignments, specifically when those assignments involve third parties. For example, while a team member might be responsible for completing an RFI, they may not be able to speak to its status once it goes to the engineer for review. Using "Ball in Court, that team member can identify the engineer responsible for this review, who will then receive email updates that the RFI ball is in their court.
The Autodesk Build bonus
In addition to keeping and adding to the best parts of PlanGrid, Autodesk Build also adds new features that exist exclusively within the Autodesk Build platform.
Meeting Minutes automatically tracks closed items in meetings. When the next meeting agenda is created, items that are still open or ongoing are populated automatically. Items can also be assigned to specific people and can reference files, forms, change orders or RFIs.
Progress Tracking lets users mark up drawings and change the status of different areas by individual room.
Schedule pulls data from Primevera or Microsoft Projects so users can update their status on specific portions of a schedule as a suggested edit.
Assets allow users to link pieces of equipment, tools, or rooms to any RFIs or Issues that might impact them. This lets users track documents, status updates, installation details of these specific assets in one place.
Are you a veteran user of PlanGrid looking to make the move to Autodesk Build? Schedule a Discovery Meeting today!