How Technology Fostered a Construction Safety Revolution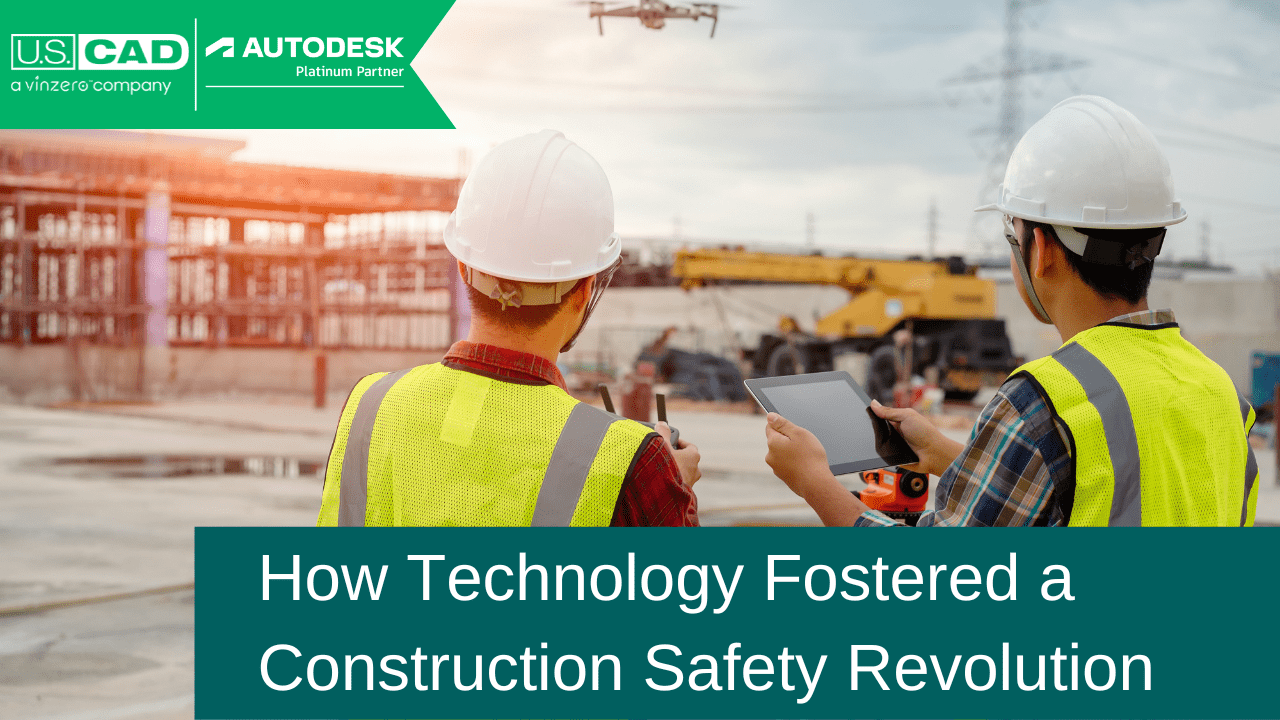 When we think of facets of construction that had to adapt quickly during the COVID-19 pandemic, the first that comes to mind is construction safety. Sudden site closures, social distancing requirements, mask wearing, the move to remote work and other disease prevention measures were significant challenges. These challenges sparked a technological revolution within the traditional construction sector. In honor of Construction Safety Week, here are the most important ways construction safety has been revolutionized by the adoption of technology.
The revolution will be digitized
Construction is notorious for its slow-to-adapt approach to technology. That all changed in the spring of 2020 as pandemic-related restrictions made traditional approaches untenable. Companies had to ensure workers maintained physical distance and had to limit the number of workers allowed onsite. At the same time, projects still needed to meet strict deadlines. This prompted an industry-wide reconsideration of how to monitor and record safety incidents.
The result was the widespread adoption of cloud-based applications to record incidents. Project engineers often have to find safety issues as part of their day-to-day work on a job site. Having a cloud-based tool such as Autodesk Build to quickly document, record and file an incident so safety managers can review it from anywhere has been critical to improving awareness and response.
"There's more visibility and awareness of what's going on in construction projects," said Aaron Wagner, U.S. CAD's Director for Autodesk Construction Cloud. "Before, if an incident happened, the reporting was all manual, paper-driven and it would take forever. Moving away from paper processes and digitizing that has been really helpful."
Out with the old, in with the new
"It's really taking an old process of clipboards with printed paper and then filing that information and making that a digital process," said Troy Gates, U.S. CAD's Director of Technology. "Now we can use preformatted forms on an iPad, fill it out and have that data move on to people who can verify, approve and add their signature to it. That's all digital now. You don't have to have all that paper that is traditional on a construction site."
"Having all of those forms and entries in a platform allows you to visualize how many safety incidents you have per week, per month, per year," said Gates. "Any kind of data you can visualize and create a dashboard or report from. And using paper that is not easy to do."
Gates said that U.S. CAD is currently working with the safety team of a large data-center owner based in California to track, monitor and report on safety throughout the life of a construction project using Autodesk Construction Cloud.
"Their construction safety program starts at pre-construction, but as soon as there's a construction site, they are doing daily inspections to check for certain requirements. And when there is an incident, they do response inspections and reporting. With Autodesk Construction Cloud, they've digitized that entire process and they've seen a lot of advantages out of it."
Big Brother is watching (In a good way)
One technological innovation that truly shined during the pandemic is the use of sensors to monitor workers on site. To comply with social distancing requirements, many companies require workers to wear sensors that can track their location on a job site. Safety managers can then determine how many people are in one area at a time. This is useful to encourage safer gatherings and helping workers avoid unsafe areas of a construction site.
"Sensors became very big during the pandemic, since you couldn't have a certain number of people in a space," said Gates. "Being able to track people in places on a site, seeing when they move off-site, on-site, is very technologically advantageous. This is an area that is at a maturity point already. A lot of construction sites don't necessarily use it, but its available and they could be using it. And those that are, are seeing advantages."
U.S. CAD senior technical specialist Hayden Rogers agrees that being able to safely monitor people and sites through technology like aerial drones has been a game changer.
"With a drone, you can fly up and take note of hazardous conditions, as well as to monitor workers to make sure they are not congregating perilously close to an unsafe area," he said.
Its all about BIM
Sometimes, a safety issue can present itself before anyone even steps foot on a job site. For example, a pipe spool made in prefabrication can be unnecessarily large or unwieldy. This can create safety risks in the field.
"When a spool becomes too large and too cumbersome to fabricate even in a controlled environment, think about what that means if you have to fly it up a twenty-story building" said Rogers. "Or if someone has to be on a man-lift to get those things installed."
Rogers said the Building Information Modeling (BIM) team has a unique role to play in reducing risk on a project.
"You have to pay attention to how large your spools are getting, or how heavy so these pipes can be safely built and installed."
Another remote technology Rogers mentioned as having an impact on the job site is the use of augmented reality (AR). By utilizing AR, teams can input BIM models developed through Autodesk Revit or other BIM production software to visualize a work site before the team arrives.
"With AR you can load in your Revit models and you can see what things actually look like on a construction site," he said. "You can see and determine 'well, here we can change things around a bit' to make things a little safer."
Want to learn how technology can make your construction site safer? Schedule a Discovery Meeting today!