The Five Questions Every Construction Technology Vendor Should Answer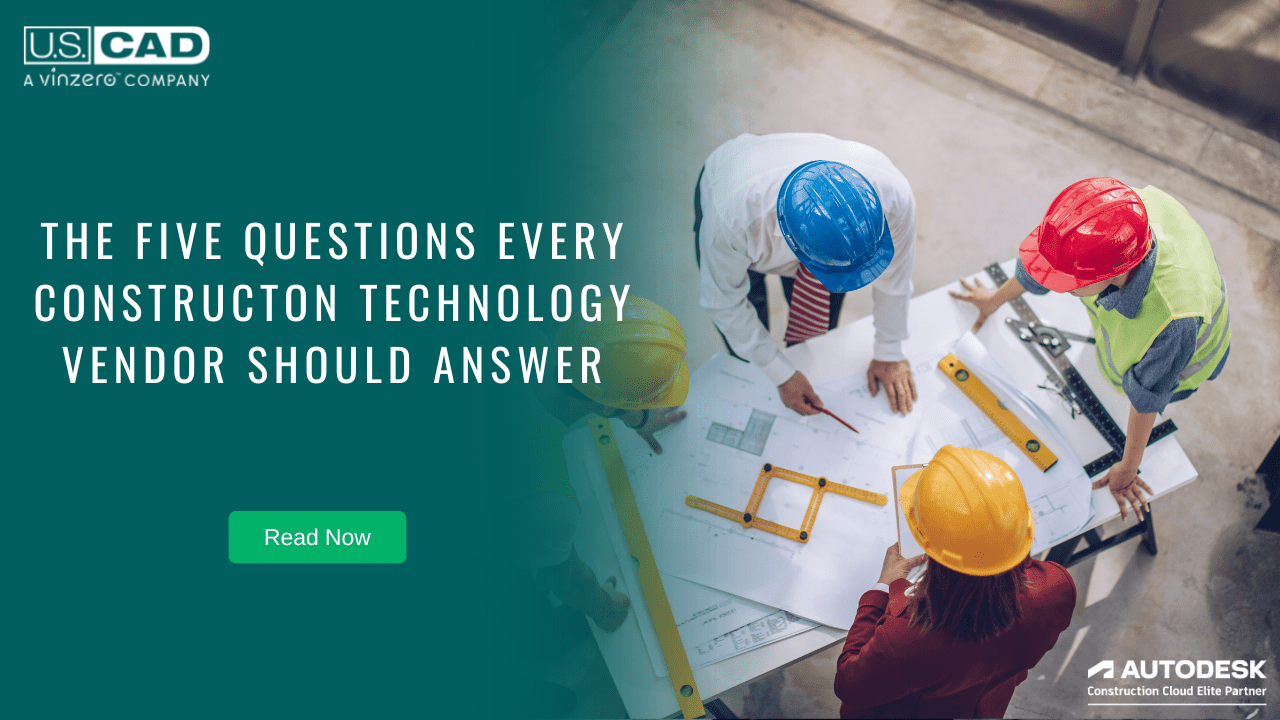 Many firms don't have the bandwidth to adopt new tech on their own, so they seek out a dedicated construction technology vendor to help them adopt new solutions. The global COVID-19 pandemic has accelerated the need for these services, both to ensure worker safety and improve productivity. Yet, roughly two decades since the introduction of BIM, point solutions and other digital technologies, construction firms continue to lag other industries in the adoption of technology.
The most cited reason for this is employee hesitancy: many workers like the tools they currently use and do not see a need to make a change. Nonetheless, firms are feeling the pressure to integrate new technologies to maintain a competitive edge.
Here are the five must-ask questions to use as a checklist in your search for a construction technology vendor.  
What is Their Expertise?
With hundreds of different construction technology platforms available, a construction technology vendor must be an expert in the solution you adopt. Luckily, there are ways to differentiate between those vendors who are merely familiar with a product and those who can call themselves true experts. Autodesk, for example, has a multi-tier Partner Program for their solution providers, demonstrating levels of product and domain expertise, service, and support. Therefore, you'll want to ensure the vendor you select has the highest levels of accreditation by Autodesk at the company level (i.e., a Platinum Partner) and the trainer level (i.e., Certified Instructors). In addition, the vendor should hold the Autodesk Construction Cloud Elite Partner designation so that you can leverage true construction technology experts with deep knowledge of the complete portfolio of Autodesk Construction Cloud products. Vendors with these designations are recognized for their product mastery, industry domain knowledge, best-in-class customer service, and support capabilities.
Do They Have Proven Competency and Provide References?
You deserve a fully competent vendor – you don't want your project to be their guinea pig. The ability of your technology consultant to help solve problems will ultimately depend on their people and their core competencies. Having the technology provider's stamp of approval is a useful differentiator, but this does not replace good old-fashioned technical know-how. When you are choosing a partner, do you due diligence. Request that they provide references from companies they've worked with on similar issues to yours. Be sure to inquire about and confirm the experience of their technology experts. Watch or read content the company has produced online to get a sense of their expertise. When receiving a complimentary demonstration, be honest about your pain points and ask questions about how they can ensure a positive business outcome. The more opportunities you give a potential partner to demonstrate their knowledge or lack thereof, the more comfortable you will be when the time comes to make a choice.
Do They Provide Mission-Critical Reliability?
Finding that perfect partner who has the expertise you need is great, but what if you have an issue or a question and need assistance now? Technology vendors are busy and are likely helping multiple construction firms just like yours integrate the same tools and systems. Their bandwidth has limits. So it's important you find a partner who dedicates themselves to helping you achieve your goals. Be sure that you get familiar with the team who will be assisting you. If you don't feel confident in their ability to support you to train and mentor your staff, meet your go-live date, provide a Customer Success resource to advocate for you, or provide technical support when you need it the most, it might be time to look elsewhere.
Can They Quickly Help You Pivot?
Construction technology, like any technology, is constantly changing. The tools and systems that are considered cutting edge now will almost certainly become obsolete in just a few years. This means you need to be ready to adapt when your existing tool chest no longer provides the competitive edge it once did, and so does your technology partner. Find a partner who is knowledgeable not only about the tools you want to adopt, but also about where these tools are going and will take the time to understand your business, the industry landscape, and all other essential factors.
Do They Have A People-First, Caring Culture?
Like a doctor with good bedside manner, a technology vendor who knows how to put you at ease and feel comfortable with a course of action is irreplaceable. Integrating new tech can be scary and overwhelming, especially if you have a workforce that is older and hesitant to embrace change. There will be hiccups, disruptions, and challenges you won't anticipate. There will be growing pains associated with integrations and getting staff up to speed. You want a partner who can shepherd you through these rough early stages with confidence and a clear vision. They should be available, easy to work with, and capable of explaining complex systems in simple terms. Lastly, a good technology partner will make you feel like your destinies intertwine and that you will either rise or fall together.
You can't afford to spend time selecting a vendor to only find out they cannot deliver on your needs. 
If you want to know how we can help you address your business challenges, gives us a call to try our complimentary success planning process.
Suggested reading:
Construction Still Lags Other Industries In Use Of Technology