The 2023 U.S. Construction Outlook: Recession, rotation, or renewal—and the role of technology in any scenario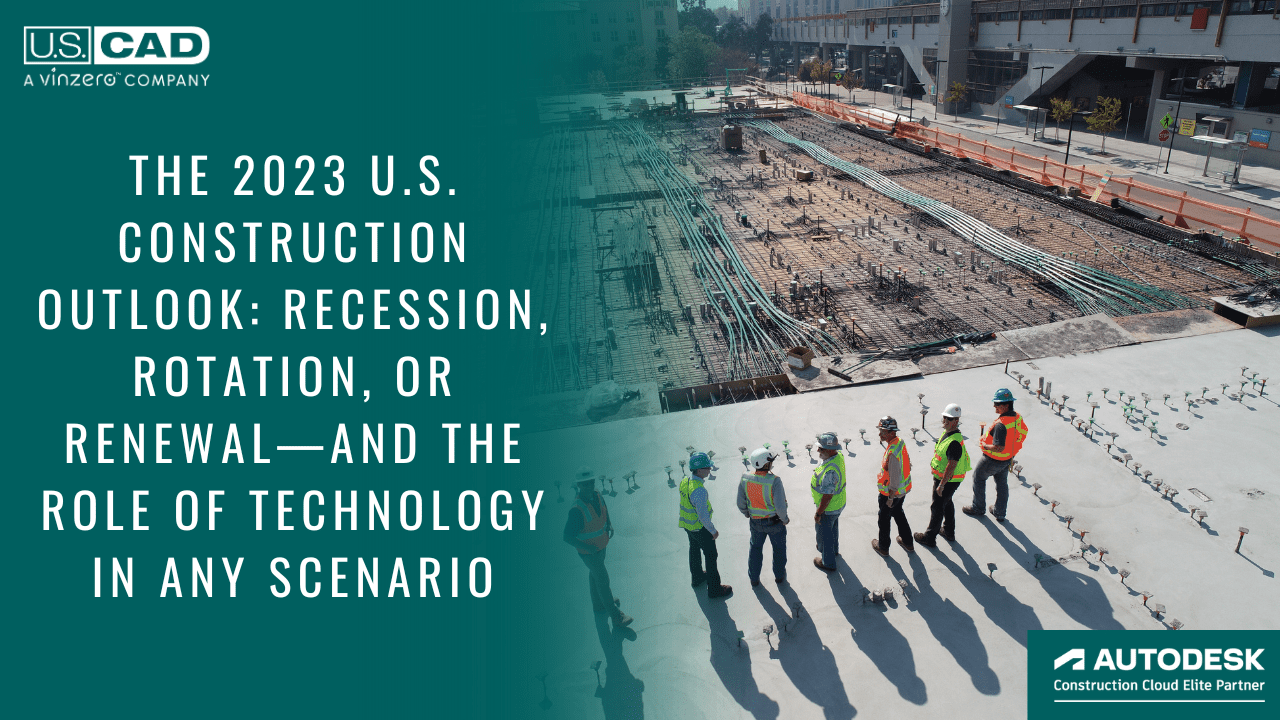 From the many external influences and threats to the ever evolving means and methods of project delivery, the construction industry is necessarily one of flexibility and often creativity—today more than ever.
In the recent U.S. CAD-sponsored 2023 Outlook for U.S. Construction, a panel of industry leaders assessed recessionary potential, federal investment opportunities, supply chain and labor deterrents, to name a few. Associated General Contractors of America's Chief Economist Ken Simonson noted, "We had amazingly strong job creation numbers in recent months. The federal government is poised to spend unprecedented amounts of money. While there are some headline grabbing stories about layoffs, for the most part, we are adding workers and spending more."
The biggest threats—and opportunities—to the construction industry in the coming year, according to Simonson, are easily identifiable. "International tensions, pandemic renewal, unexpected events like earthquakes that affect supply of steel from Turkey. Closer to home, the freeze in Texas disrupted the market for construction plastic," he continued. "However, the preponderance of risk is down, but not so much to suggest a recession. I'm optimistic and hopeful."
With that largely positive outlook, the panel, which included Simonson, Brian Athey, director of Construction Innovation at Miron Construction Co., Inc. and Grant Strom, national sales director of Construction at U.S. CAD emphasized two essential elements to continued success in these uncertain times: increased collaboration and more technology investment.
Communication is Key
The panel recognized that external threats have had a direct impact on procurement methods for many firms. As an example, Miron Construction has shifted from an estimated 70% hard bid/30% negotiated work in 2020 to 80% negotiated/20% hard bid in 2022.
That about-face is largely a consequence of tighter schedules, supply chain issues, inflation, etc. As they noted in the webinar, "What we've learned over last three years is just how vital early and frequent communication is between designers, suppliers and owners so nobody gets surprised by information that someone else held on to. The earlier everyone in the process is notified of problems, the better chance to find workarounds and adapt to a potential delay."
Sound advice in today's environment. Technology, and today's advanced digital ecosystems in particular, provides the framework to facilitate that necessary communication, greater collaboration and all-important transparency.
Techs Tangible Advantage
The cloud, BIM, reality capture and other digital advancements are all essential elements that can improve and even drive collaboration and communication.
The panel participants noted that the biggest impact for many will be through the investment in cloud and applications such as Autodesk Construction Cloud's new Bridge data sharing capabilities that allows designers and contractors to synchronize relevant data sheets eliminating the need to copy and update documents.
More synchronized data sharing is a great way to help contractors navigate supply chain issues, for instance, over the last 18 months, while still keeping projects within confined schedules.
The panel believes that companies of all sizes must set aside some money to investigate and invest in solutions that makes sense for their company—or they will be left behind when another external roadblock comes along.
Roadmaps and Relationships
Effective external communication and technology investment require planning, essentially a roadmap.
Here are five key elements to the successful deployment of any solution, whether enterprise-wide or task specific:
Know Your Workflow: Document your processes, workflows before selecting a toolkit; know who's responsible and who has to be notified of progress
People-Focused: Get the right people at the table to evaluate any application before you invest. Buy-in from users is essential.
Comprehensive Assessment: Conduct multiple tests before full implementation and focus on that applications purpose, before expanding to other capabilities.
Training, Training, Training: Develop a plan for training your people prior to implementation. Also having a champion is always a bonus for any successful investment.
Technology Partner Relationship: Near every successful implementation starts with a quality relationship with a technology provider. Is that person available for questions or feedback or simply there to sell the product? A good partnership will pull you along, helping you make the most of your current investment and stay current on emerging advances.
For more insight into construction 2023 trends and challenges, and tips for success, listen to the 2023 Outlook for U.S. Construction.