Digital Twins Are The Next Evolution of BIM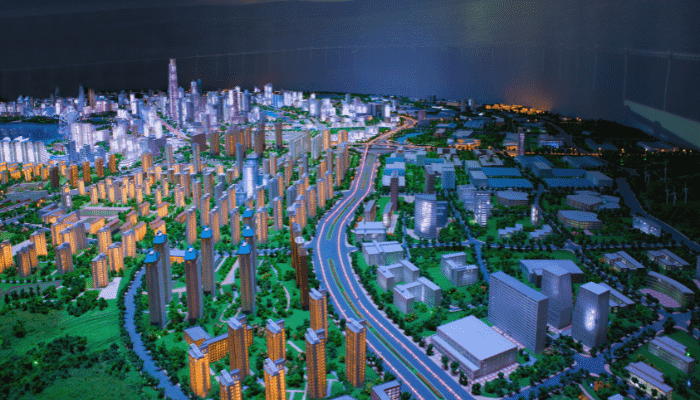 Digital twins have emerged as the digital tool-de-jour in many industries. But what is a digital twin? In the architecture, engineering and construction (AEC) industry, BIM and digital twins work in conjunction with one another, but they shouldn't be confused with one another. In fact, a digital twin is far more than just a model; it is a changing, adapting digital mirror of an actual object or system.
Definitions of a digital twin abound. Here is one by IBM: "A digital twin is a virtual representation of an object or system that spans its lifecycle, is updated from real-time data, and uses simulation, machine learning and reasoning to help decision-making."
In basic terms, a digital twin is a digital version of a real-life object or system. It acts and reacts the same as the real object or system using an array of data to keep both the physical and digital objects functioning the same.
Digital twins are emerging as the new necessity for everything from simplifying utilities field service to creating more efficiency on factory floors, and even future-proofing machine tools. In fact, in a way manufacturing has been taking the lead. As the industrial Internet of things (IIoT) has become more practical and less of a buzzword, sensors and information gathering have rapidly increased. Now, those manufacturers are discovering and understanding how to put that data to use. Using digital twins, manufacturers and industrial businesses have been able to predict machine maintenance and downtime more accurately, as well as find ways to mitigate the challenges of having that downtime.
But leveraging data in a manufacturing environment is generally limited to making things and the tools that do the making. To that end, it is limited to making things with the tools, equipment and facilities that are currently available.
The world of AEC has started to embrace Building Information Modeling (BIM), much like manufacturers adopted the use of parametric models. Digital twins can change the way AEC firms operate by leveraging BIM data for not only modeling new builds, but also calculating the lifecycle of systems and elements within an existing building or structure.
"We have seen an influx of design customers looking to U.S. CAD to assist them to streamline and freshen up their approach to BIM," says Teresa Martin, Technical Consultant at U.S. CAD. "Ultimately, the designers and architects will be tasked with adding the asset information within their deliverables to meet or exceed BIM Execution Plans. Implementing that now can ensure they are proactively out in front of any requirements from their clients."
According to IBM, there are four different types of digital twins:
• Component twins, which are the smallest example of a functioning component.
• Asset twins, which are essentially two or more components working together.
• System twins, which enable you to see how different assets come together.
• Process twins, which mirror how systems work together, as in a production facility.
Manufacturers function in all four of these spaces, but most of their digital twin concentration at this point has been in component and asset twins. The AEC industry's focus has been, and will continue to be, on system and process twins. While they are somewhat relegated to their own categories of digital twins at the moment, manufacturers and AEC businesses alike will see some expansion into the other types of twins as the technology becomes more approachable and accessible.
Autodesk said in their eBook Demystifying Digital Twin, "For the AEC industry, a digital twin is in the form of the built asset. Take, for example, an office building and its digital twin. At the end of design and construction, there is an exact, digital replica of the entire building, from the roof to the HVAC system and MEP. The actual, physical building is mirrored as a "twin" in a digital, dynamic format."
Verdantix, which is an independent research and consulting firm in the world of AEC, explained that there are five levels of sophistication when it comes to digital twins.
As technology and adoption advances, the higher levels of sophistication are sure to grow and expand. The world of BIM is heavily based on the lowest levels of sophistication, 'Descriptive' and 'Informative.' Manufacturers and other industrial spaces have been leading the way into the next levels of sophistication ('Predictive' and 'Comprehensive') where users are beginning to utilize the information and analyze it for real-time adjustments, predictive maintenance and what-if scenarios.