Five Reasons to Consider Autodesk InfoDrainage for Your Next Drainage Design Project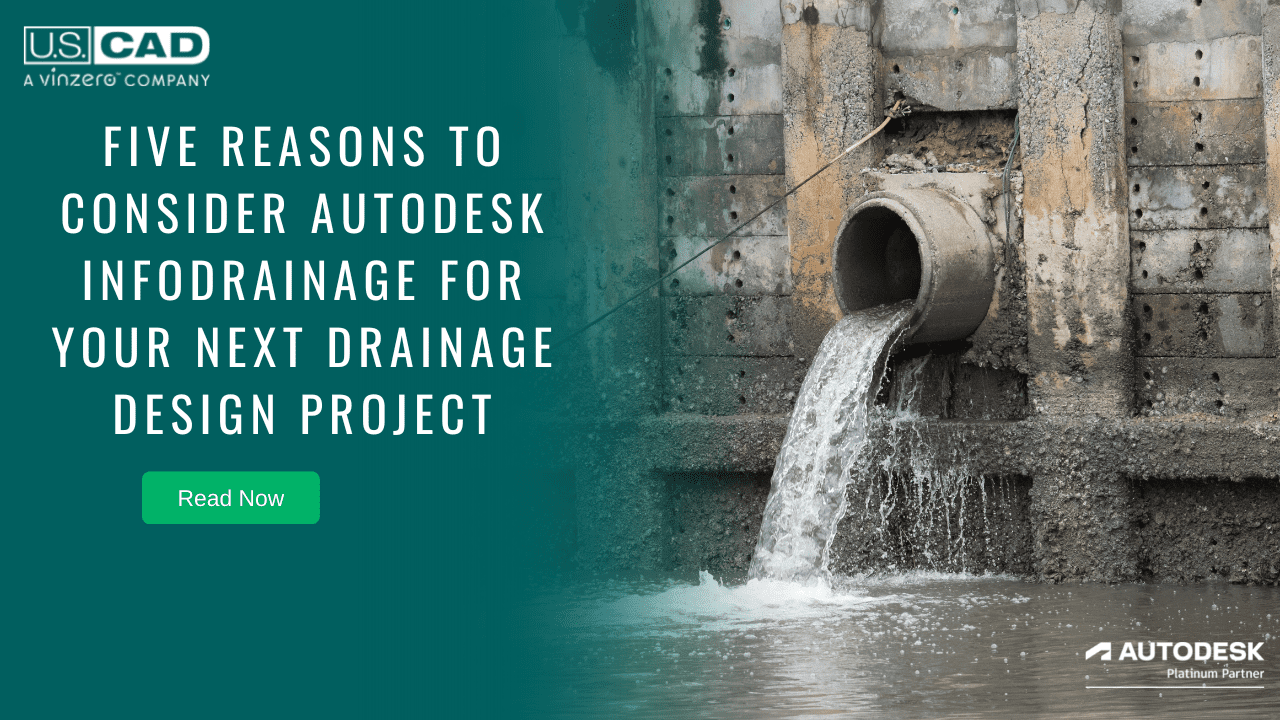 The drainage design process is often time-consuming, inefficient, and costly for transportation and municipal agencies as well as their consultants. Complicating the workflow further is the rising frequency and severity of extreme weather events, which seriously threaten the resilience of water transport systems and associated infrastructure, as well as the growing demand, and need, for green solutions.In today's environment, it's not enough to size pipes based on water quantity—water quality, amenity and biodiversity are all on equal footing. However, conventional, often disconnected, workflows make it difficult to meet those demands. That's where Autodesk InfoDrainage, a full design and analysis solution built to support the concept-to-construction drainage design process, can make a difference.Here are five ways that InfoDrainage can help every engineer deliver a more effective and sustainable drainage solution.
#1 Data Flow Across Platforms: It's the nature of the drainage design workflow that it has long been one that requires the engineer to optimize a solution across the design and construction lifecycle. The data typically flows through different platforms and design packages—a task that often results in disconnects and multiple saved files, while raising the potential for error.
InfoDrainage is built to leverage multiple data sources (e.g., CAD, GIS, surfaces, imagery) using simple data import functionality. With these tools, the user can continually create and modify designs in-plan. The iterative design workflow makes it easy to refresh connected site layers with ease across various iterations with the ability to adapt true-to-site structures quickly and effectively to realize the best use of space. It's a tool that allows users to look at a drainage system as a whole versus from a piecemeal or segmented view.
#2 Optimized for Blue/Green Corridors: The growing need to incorporate green infrastructure adds complexity to understanding and predicting any drainage system operation. Traditional methods lack optioneering capabilities and can stifle engineering creativity.
InfoDrainage lets users visualize exceedance routes and blue/green corridors from the outset of design, making it  easy to analyze overland flows for better spatial planning. It even includes innovative sustainable urban drainage system (SuDS) representation and analysis tools that help users demonstrate the benefits and performance of all the structures used across a site and quickly identify areas of design that may need further optimization. Further, the solution offers improved detailed hydraulic representations to ensure how the water passed through the structures, an animated profile view for a better understanding performance, and warnings feature that alerts the user when a concept exceeds capacity or assigned flood risk levels.
#3 Enabling BIM Workflows: As mentioned earlier, the traditional drainage design workflow requires the movement of design files across multiple solutions and the creation of multiple files, often stored in various solutions—it's a mind numbing and time-consuming effort that can introduce data errors. Just as importantly, these methods prevent the true empowerment of BIM and the optimal use of familiar solutions such as the Autodesk Civil 3D civil design software. That's why InfoDrainage has a dedicated link inside of Civil 3D for seamless data round tripping.
Also, the solution includes intuitive template parts mapping and the ability to incorporate smart objects of drainage systems (e.g., pipes, swales). It's an intelligent workflow that streamlines processes to efficiently represent design, giving greater confidence in the validity and accuracy of the design information.
#4 Easily Convey Technical Designs: Like any other civil solution, drainage concepts must be shared with confidence and clarity to stakeholders with varying levels of technical knowledge. With the increased emphasis on green, demonstrating compliance with local regulations becomes increasingly important. To avoid unnecessary and costly resubmissions, solutions must be easily understood and highly visual.
InfoDrainage is designed to showcase surface water management approach of extreme events with clear visual outputs for all stakeholders. Features include the ability to graphically demonstrate exceedance flows and supports dynamic 1D-2D simulation engine analysis.
#5 Streamlined Review and Approval Process: Often the most challenging aspect of drainage design is setting up and formatting reports to meet regional and local review requirements and subsequent approval.
InfoDrainage includes tools to automate the report development process and deliver clear, easy-to-consume outputs that facilitate the efficient approval of design solutions. The customizable report builder has the flexibility to cater to regional review specifications. It can add clarity about all the details of a design including LID. Also, an audit reporting tool helps engineers verify that a design meets the local, state, and federal requirements against a range of criteria, such as exceedance events. It's a simple click of the button to benchmark a design. The goal of InfoDrainage is to streamline and optimize the sustainable drainage design process while simplifying the approval process. To see how InfoDrainage in action, see the webinar Solve Common and Future-thinking Drainage Design Challenges with Autodesk InfoDrainage.