Reducing Risk, Protecting Profits, and Increasing Predictability with the Autodesk Construction Cloud
March 29 @ 10:00 am

-

3:00 pm

HST

$60.00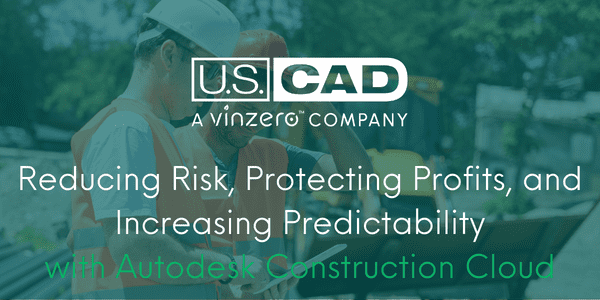 Join U.S. CAD and Autodesk to learn how the Autodesk Construction Cloud connects teams and project data from design to done—reducing risk, protecting profits, and increasing predictability.
This event includes multiple presentations diving into modules within the Autodesk Construction Cloud. Lunch will be served. Purchase your tickets to the event below.
---
Presentation Descriptions
Presentation #1
In today's construction climate, it is about speed but also about managing budgets, in this presentation, we will look at what historically construction has done to manage a lifecycle of construction finances to how today we can use best practices and technology to leverage and manage the conception of a project to constructability, to active construction, and then finally to cross the finish line and track the costs even during the warranty period.
Learning Objectives
How to track finances during preconstruction
How to connect cost variables from VDC and Field Supervision
Forecast finances through the construction process
How to take data and then hand it back to estimating
Presentation #2
This session will review Autodesk Construction Cloud and its integrations that solve many of the challenges that lead to $17B a year in cost excesses. Autodesk Docs allows for complete stakeholder communications while also limiting access with detailed permissions. Design Collaboration lets modeling teams share design intent through construction documentation to the right team members when they need it. Autodesk Build allows design and construction stakeholders to communicate through RFIs, Submittals, and Issues. When it comes to ACC's integrations, every step is enhanced. Assemble assists in Value Engineering and model quantification. BuildingConnected allows for the tracking and communication of bids. Pype reduces time and human error when it comes to Submittals and Project Closeout Docs, getting facilities management up and running faster.
Learning Objectives
Understand the entire lifecycle of the Autodesk Construction Cloud
Understand the key areas that impact your bottom line
Align your company and other stakeholders on a Common Data Environment
Get the most out of tools you utilize already
---
About the Presenters
Andrell Laniewicz spent many years as a VDC Engineer for GCs on some of the most demanding BIM Projects in DC, while teaching BIM at a University. With that experience, she became a Tier 3 Support Specialist for one of the nation's largest MEP firms, where she worked directly with Autodesk to improve BIM Processes. Andrell currently provides BIM support and training in Revit, Navisworks, ACC, and more, with a heavy focus on the construction side. She is a Revit Certified Professional, Authorized Trainer, and has earned the CM-BIM certification from AGC.
Tyler Camp has spent the last 17 years working within the construction industry, from subcontractor to 13 years for a General Contractor as a project manager working in health care, higher education, religious, and sports arenas. For the last several years, Tyler has worked as a Technical Sales Executive working with clients to find improved processes.