Crush Your New Year's Resolutions With Construction Technology Training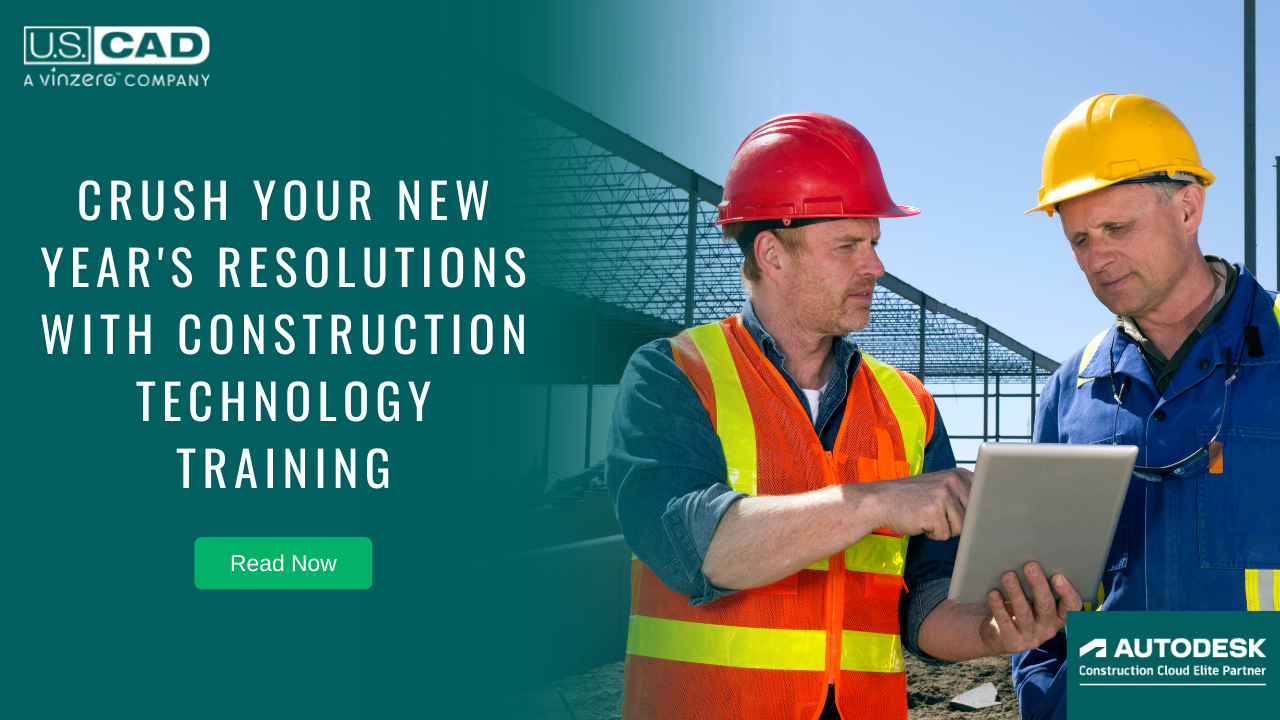 It's that time of year again. The champagne has been popped, balls have dropped, and now its time to make-due on those New Year's resolutions and tackle your goals for 2023. For construction firms, maybe that goal is to adopt new construction technology (ConTech) that will transform the way you do business.
Whether its remote work, BIM, augmented reality, virtual design and construction, the technology shifts we have seen over the past three years have been permanently ingrained into the fabric of construction processes and workflows. There's simply no shortage of technology solutions hoping to be the next big thing in the construction industry. The challenge is ensuring you and your teams are adequately trained on the ConTech solution you choose to use.
From new hires to industry veterans with decades of experience, the only way adoption of technology makes an impact is if everyone in the company buys into and knows how to use it. Here are a few tips to get your staff ready to use construction technology to its full potential.
Tip 1: Know the Value of Construction Technology Training
Many firms adjust to a new ConTech solution to gain a competitive edge. But what some fail to realize is it is critical to prepare your team to utilize this technology before you make promises to clients about what it can do. Be sure to sell the technology to your internal team. That way they will understand its value and be willing to adopt it. Spend time talking about their challenges and frustrations with a specific process or workflow – and describe how the tool will help. Otherwise, workers may stick to using old tools and processes they already know.
Tip 2: View Construction Technology Training as An Investment, Not a Time Suck
Some firms tend to skip ConTech training because it can take workers away from jobsites and their core responsibilities. In these cases, workers are given rudimentary instruction in a tool in the hope they will figure out how to use it in the field later.
This can cause unforeseen problems later on. Most modern ConTech solutions have many aspects and features workers may not be aware of. Sometimes workers use certain features often enough they are competent in their application. That is, until they are required to use a portion of the tool they've never used before. Other times project managers decide to invest in a new tool to solve a specific problem, but do not realize their existing technology set already has a built-in solution. As a result, the company purchases a tool they didn't need.
Tip 3: Start slow, then expand
Most workers are not paid to use construction technology. They're paid to hang drywall, lay flooring, or install plumbing. As a result, learning new technology is very much a secondary priority for them. If the technology is not simple and easy to use, they will disregard it.
To start, educate your employees on the easiest components of the technology. This can be as simple as completing a daily log. Once they are comfortable with the basics, they can move on to more complex features, such as handling an RFI or submittal. This tailored approach can solicit buy-in, creates momentum, and helps turn employees into advocates.
Tip 4: Track progress, be accountable
Once training is complete, it is important to track usage and make sure workers are using the tool as intended. Every worker serves a specific function and will use the tool to fit their unique job responsibilities. Superintendents need to be trained in different processes than engineers, who have different responsibilities than project managers. Have regular meetings with your team leads to identify problems or pain points and ensure the transition runs smoothly. Many tools are now cloud-based which means you can easily track when employees log-in and how long they use it. Develop a timeline for adoption and stick to it. Hold workers accountable if they fail to utilize the technology. Following up on your investment is crucial to making sure it is adopted effectively.
Remember, you are not alone
When ConTech training seems overwhelming, know you don't have to create and lead technology education on your own. Working with the right technology solutions provider can help you identify problems you want to solve with your new technology. They can also create and lead training to ensure your team is using the technology correctly, increase their skills, and improve project quality.
For more information on how we can help you pick and adopt new technology, give us a call to try our complimentary success planning process.