Best Practices to Keep Civil 3D Synced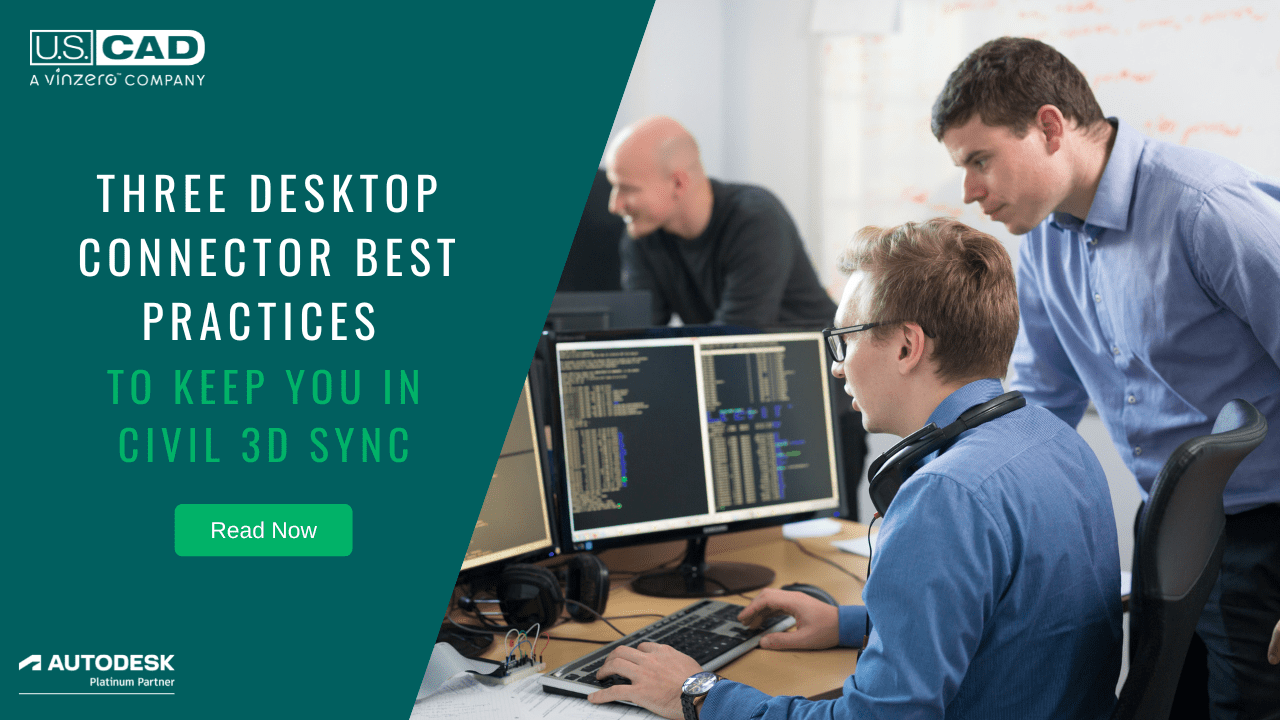 While convenience, ease of use, and flexibility are hallmarks of the Autodesk Desktop Connector, there are a few best practices to keep Civil 3D synced.
As a bridge between Autodesk BIM 360, your cloud host or container for the project, and Civil 3D, your civil design solution, the Autodesk Desktop Connector effectively provides the bridge between the two. It's a great way to work faster in Civil 3D with the assurance that you're working on the most recent documents.
Here are three ways to optimize your Autodesk Desktop Connector experience.
Manual Syncs
Autodesk Desktop Connector does an excellent job syncing files as needed—but there are times files or folders may be missed. For instance, sometimes surfaces with point cloud data might not be immediately visible or there's a new drawing or file that you want to share with an organization that needs access to reference that document.
If you don't see a file in your Civil 3D folder (but it's visible on BIM360), you can use Windows Explorer to browse to that location in Autodesk Docs project folder and find your document. Once found, right-click on the folder and select sync. You should see a note on the status bar showing syncing is in process. Then in Civil 3D, hit the refresh button (top right). The document should appear.
Of note, it's always good to hit the refresh button on all your tools including BIM360, Autodesk Desktop Connector, and Civil 3D.
Disk space delays
If you find your computer is working slowly while in Civil 3D, check out the Autodesk Desktop Connector Free Up Space command. This command removes local Desktop Connector workspace files and folders to free up disk space.
Remember, the Desktop Connector uses your C: drive as the local cache for storing documents. For example, the full path for a project might appear as C:\Users\<user name>\Autodesk Docs\<account name>\<project name>\Project Files\<folder>.
But it's easy to free up space at nearly every level of your system, the top view with all projects to the individual file level.
As shown in the visual below, right-click on a file or folder (in this case, InfraTues) and select the option to Free Up Space. Once you select, you will get a confirmation alert: Clear the local copy of the selected files? The files will remain in your cloud storage. Click Yes, and the files will be cleared. You should see the Status bar revert to cloud status.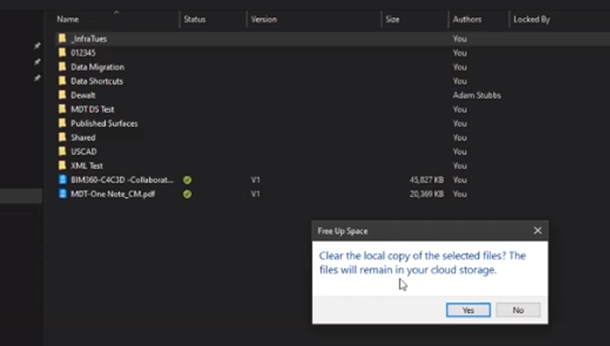 Pro tip—if you've worked on multiple drawings or files throughout the day, free up space at the higher folder level. If you've focused on one or two drawings/files, then on the individuals.
Free Up Space will remove the local copy of each file at or below the folder selected as long as the file is not open in an application or participating in an active Pending Action, which leads to our next tip for Desktop Connector success.
Process delays
An oft-forgotten action item in Autodesk Desktop Connector is Pending Actions, those actions that have yet to be processed by Desktop Connector. If you save a drawing in Civil 3D, a Workspace Sync action will be displayed in the Pending Actions window to notify you the drawing is uploaded.
The Pending Actions window can be accesed by right-clicking the Desktop Connector icon from the Windows system tray.
Here's how it might work. At the end of the day, I've hit save in Civil 3D. A key step is to check the Pending Actions window. If you have five or six actions, and the system can't process the first one, you can right-click and clear just that action.
I recommend clearing and closing Civil 3D first, checking Pending Actions in Desktop Connector, and the log out of BIM360. 
Freeing up space, syncing, and pending actions are all best practices that can help any user have the best experience when working with BIM360, Autodesk Desktop Connector, and Civil 3D. 
To view the Infrastructure Tuesday webinar covering Civil 3D and Desktop Connector, click here.