Autodesk University 2022: A Recap for Construction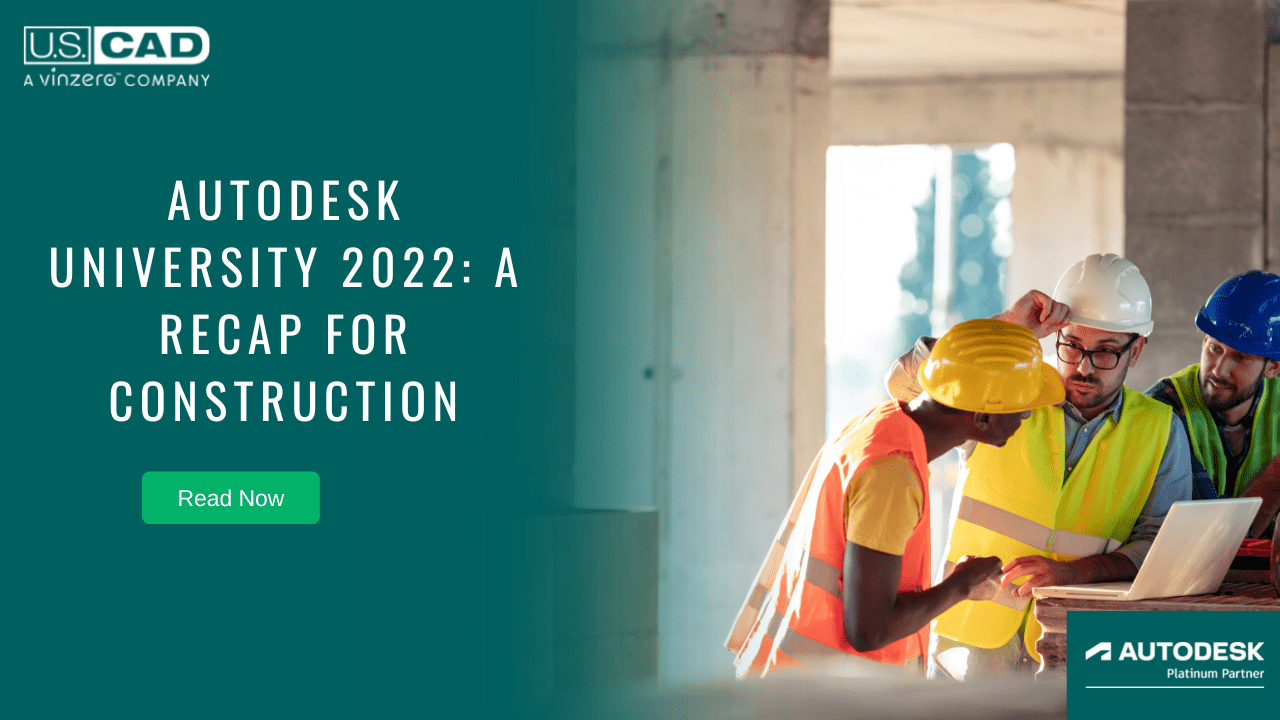 Autodesk University (AU) 2022, which took place September 27-29 in New Orleans, LA, was an exciting three-day event that hosted thousands of industry professionals from around the world in architecture, engineering, construction, manufacturing, media and entertainment.  Over 10,000 attendees joined informative courses, discussion panels and productive workshops to gain new skills and insights into how technology can improve teams, businesses, and the world.
Here is a roundup of the most important construction-related news and insights from Autodesk University 2022.
Introducing Autodesk Forma
During his keynote address, Autodesk CEO Andrew Anagnost announced the introduction of three industry clouds: Autodesk Forma, Autodesk Flow and Autodesk Fusion. Autodesk Forma, the industry cloud for AEC, unifies building information modeling (BIM) for teams who design, build and operate the built environment.
The foundation for Autodesk Forma is the Autodesk Construction Cloud (ACC), which served as a test piece for what Autodesk envisioned Forma to be.
The project lifecycle in Autodesk Forma starts with conceptual design, utilizing platforms like Spacemaker, Insight and FormIt. Then moving into design development, users can create generative design with Dynamo, Revit, and Design Collaboration. Finally, the Construction and Building Operations phase will incorporate cost management and field applications such as Build, Pype, The Wild, ProEst, and others. The ACC will still exist within Forma. The purpose of Forma is to expand the ACC to areas not necessarily associated with 'construction', such as architecture and engineering, and integrate other tools such as Spacemaker and FormIt into the same cloud.
Autodesk University 2022 Theme: Sustainability
More and more, industries are relying on connected data to improve efficiency. According to Gartner, Inc, 95% of all projects are expected to run on cloud platforms by 2025. At AU 2022, Autodesk made clear it wants to take advantage of this trend to encourage sustainable construction projects. Over 450 courses were devoted to helping attendees reduce their carbon footprint and connect sustainability to better business outcomes. By encouraging partners and customers to utilize their communication tools, Autodesk believes teams will improve their operational efficiency and reduce waste. With that in mind, Autodesk has pledged to invest more into Insight and Analysis, specifically functions around light, power, as well as heating and cooling loads on buildings.
Don't fix what isn't broken
Anagnost said that Autodesk's immediate plans following AU 2022 involve improving and enhancing their existing tool set as supposed to releasing new tools. Autodesk has several different tools under its umbrella that users know and use. By enhancing these tools today with new capabilities, Autodesk will be able to fill the gap for when it plans to release new tools in the future.
Bridge is one such tool that is receiving several enhancements. When using the cloud, there is a legitimate concern about how data and access is going to be shared and controlled. Bridge is a tool that allows ACC users to control what data they collaborate with and share. In addition to expanding the project data types users can share, Bridge will also be integrated with Design Collaboration. This will let teams publish their packages through Bridge while still hosting their own Design Collaboration items.
Twinmotion is another tool that will be accessible to construction teams. Twinmotion is a real-time visualization and graphics tool developed by Epic Games. Epic and Autodesk recently entered a partnership to accelerate real-time 3D experiences, with an initial focus on the AEC industry. The tool allows for easy visualizations and cloud rendering. For construction teams, the big benefit will be better 4D visualization and site logistics. For example, teams can determine the impact of increasing foot traffic or the addition of a crane or other large piece of equipment on a job site.
New updates for Autodesk Build
Of all the construction-focused updates, perhaps the most impactful related to Autodesk Build. A few of the most newsworthy updates include:
You can extract and map properties from Revit into Build's Assets function and link to 3D elements.
Cost Management now has performance tracking, while you can now attach compliance documents and create custom approval workflows
Files now how model browser enhancements and mobile app improvements
Forms now includes descriptions for each area you fill in and you can use @mentions to mention people
RFIs now have additional linking data capabilities and you can report improvements
Submittals have custom workflows to create additional steps to the review process
You can compare and manage versions of Schedules and view version history
You can now create linked Markups on a mobile device
Build now features a location tab to access locations, which you can add manually or via QR scanner.
Want more insights from Autodesk University 2022? Check out our webinar for an in-depth overview, or contact us for a free success planning consultation.