Meet the Civil Engineering Superstars of U.S. CAD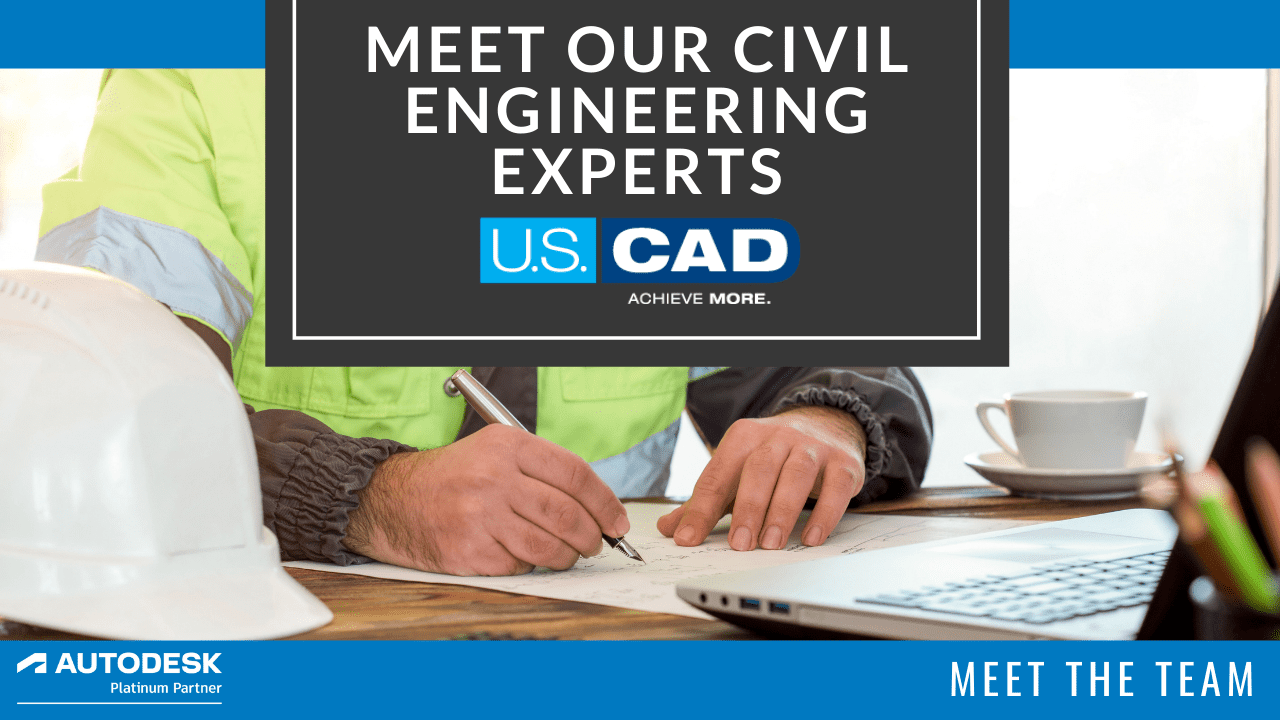 Engineers Week, which began 71 years ago by the National Society of Professional Engineers, is dedicated to boosting awareness of and interest in engineering and technology careers to ensure a diverse and well-educated future engineering workforce. This week, we're spotlighting some of our civil engineering superstars. Their industry and technology expertise combined with customer collaboration on projects make modern life possible. Meet the team!
---
KaDe King, Senior Technical Specialist, Infrastructure & Government

KaDe King is a Senior Technical Specialist and Training Center Manager at U.S. CAD. Before becoming an Autodesk Certified Instructor and joining U.S. CAD, KaDe worked for five years as a mapping technician in the natural gas industry. KaDe has been using Autodesk products since 1987 and has provided training since 1993. In her role, KaDe delivers training for all levels of AutoCAD, Map 3D, and Civil 3D, and provides technical support, consulting CAD management services, and Autodesk licensing and deployment services, such as deployment builds, license server setups and updates, license file merging, and license configuration). KaDe excels in relating to the individuals in her training classes and provides a memorable training experience by developing dedicated and custom training courses that fulfill each client's needs.
---
Aaron Powell, Senior Technical Specialist, Infrastructure & Government
Aaron Powell is a Senior Technical Specialist at U. S. CAD with more than 20 years of experience in the civil engineering, planning, and surveying fields. Aaron's experience in civil engineering has been dynamic and varied – from managing industry professionals, field personnel, trade subcontractors to providing oversight to consultants, vendors, architects, engineers, and surveyors. In addition, he has directed complex land developments and entitlement projects, supervised residential and commercial projects, and operated large engineering facilities.
---
Ron Couillard, Technical Consultant, Infrastructure & Government

Ron Couillard brings more than 20 years of civil infrastructure industry experience to his current role. He enjoys providing clients with technology solutions and hardware recommendations to help solve their complex project and business needs. In prior positions in the field, Ron served as a CAD Manager and Senior Civil Designer at several engineering firms to address challenges unique to the civil infrastructure industry.
---
Doug Benoit, P.E., Senior Technical Specialist, Infrastructure & Government

Doug Benoit brings more than 25 years of civil engineering experience to the technical team at U.S. CAD. His previous experience includes 13 years of gathering real-world experience as a design/project engineer at a consulting firm in St. Paul, Minnesota. Doug thoroughly enjoys assisting customers with training, mentoring, content creation, writing technical guides, and technical support.
---
Michael Gaines, Senior Technical Specialist, Infrastructure & Government

Michael Gaines brings more than 18 years of experience in drafting/design, graphical-related work to his role at U.S. CAD. His experience includes drafting, design, and graphical representation on a wide variety of civil, planning, surveying, and construction management projects for both the public and private sectors. Michael's humble demeanor and experience in the office and field have provided him with the knowledge and expertise to successfully lead and manage his teams and organizations. In addition, his leadership style has proven to be an honest and encouraging approach to mentoring and training, providing consistent and positive repeatable results.
---
Ted Moberg, Senior Technical Specialist, Reality Capture

Ted Moberg has more than 25 years of experience in CAD management and IT services. Specializing in reality capture, Leica solutions, and Autodesk and Bluebeam technology, Ted serves as an extension of the U.S. CAD Technical Support Team, assisting with specialized issues related to his areas of expertise. His current responsibilities include training, mentoring, and providing technical support.
Want to work with one of our amazing civil engineering superstars, schedule a complimentary Discover Meeting here.